HOME BUSINESS RESOURCES
Resources for a Commitment to Yourself
A big part of your overall Program for Success is related to how you treat yourself. Three extremely important areas are:

1. Mindset

2. Physical Fitness

3. Nutrition

Click Here for More About Mindset


Click Here for More About Physical Fitness


Click Here for More About Nutrition


---
Recommended Business and Office Services
ACN

SKYPE

National Calling
Highly Recommended Telephone Service: ACN, Inc.
Local, Long Distance, Mobile, and much more . . .
Click Here for ACN Unlimited Long Distance
and other Products and Services

Use Sponsor Rep ID: 028014 to sign up
for Phone Service or Purchase Telecommunications Products.

International Calling
Highly Recommended Phone Service: Skype for International calls

Note: SKYPE is not for Emergency Calls and should not be your only service.
When doing business in other countries, you may want to have a local phone number for people to call. These are inexpensive through Skype and the phone will ring at whatever line you choose. This helps people feel more comfortable calling a number in their own country.

Free calls over the internet

It's what Skype's made for. Make free Skype-to-Skype calls – 24/7 anywhere in the world.

Click Here for SKYPE Unlimited International Long Distance
and other Products and Services


---
Recommended Reading for a Successful Life


The number one book for life is The Traveler's Gift by Andy Andrews


The number two book for life is The Noticer by Andy Andrews


To really look at yourself and how you fit into this world and the economy, read Integrity is Everything by John Lavenia. He says it like it is and you will definitely think about why you do what you do.






Many More Books and Other Resources


---
Recommended Personal Development Products that will give you the ultimate
tools for a Successful Life


There are many programs available which will help you understand yourself. There
are books, workbooks, CD's, DVD's, online programs, and lots of inspiration. Most
of these programs are excellent and will help you.


If, however, you have a burning desire to just Move One Step Ahead each day, there
is one program which will give you the tools to go through this process.


The program is Beyond Freedom Evolution.
1. Departure - Start where you are and Know for yourself where
you want to go.


2. Decision - Make the decision to move in that
direction.


3. Action - Begin the journey by taking action to become your
ideal you and create the life you want to live. Once you do this you will never
look back at the people and life you left behind.


These can be purchased in modules or the whole program for a reduced price. You
can create your ideal life. You are in control. The trick is to Know For
Yourself.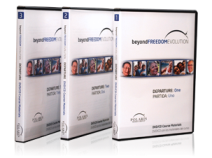 Click Here for More Information or to Purchase

Many More Personal Development Resources


---
Recommended Marketing Tools which lead the way for Building Your Business



Many More Marketing Resources

Return from Business Resources to Home Page