BUSINESS OPPORTUNITY
Real Estate Investor
Real Estate investing is an excellent way to work from home, but it is more important than any other type of home base business to be educated and mentored. The most important reason to get educated is so you know how to evaluate a good investment and how to avoid a bad investment. There is never a definite area of profit because there are so many variables, but with an excellent education and seasoned mentors, you can make some really excellent money and become as wealthy as you want.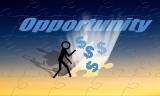 RESOURCE DIRECTORY


Please send an email to donna@whatispossiblenow.com if you would like to be listed.

Let me know if you:


Contractor or subcontractor

Lender of Hard or Soft Money

Investor

Bird Dog

Provide services to investors

Other



Some areas of study for Real Estate Investors before one starts down that road to actually investing include the following:

1. Bookkeeping
2. Building Your Team of Professionals
3. Your Business Vision
4. Financial Literacy
5. Computer Property Analysis
6. Creative Acquisitions
7. Legal Strategies
8. Negotiations
9. Tax Strategies
10. And Many More

Real Estate Investing is a very broad field. So part of the reason for getting educated is to just understand how many options there are available so you can decide which types of Real Estate Investing best suit you and your personality and skills.
The types of Real Estate Investing listed below are some of the more popular ways to make money as long as you are educated and have mentors to assist you when you start.
1. Buy and Hold which also involves Landlording or dealing with Property Managers
2. Fix and Flip
3. Foreclosures and Preforclosures
4. Land Development
5. Lease Options
6. Probate Purchases
7. Subject To Purchases
8. Wholesaling
9. Multi-Family Dwellings (2-plexes up to large apartment complexes)
10. Rehabbing
11. Short Sales
12. And Many More



Disclaimer:
Donna Schwartz and the Ultimate Entrepreneur Resources business is simply a provider of resources and does not recommend or guarantee the quality of any work provided.

---

Business Resources for Real Estate Investors:
Playing the game CASH FLOW is a great way to begin to understand about real estate investing. The cheapest place to buy a game is on eBay.